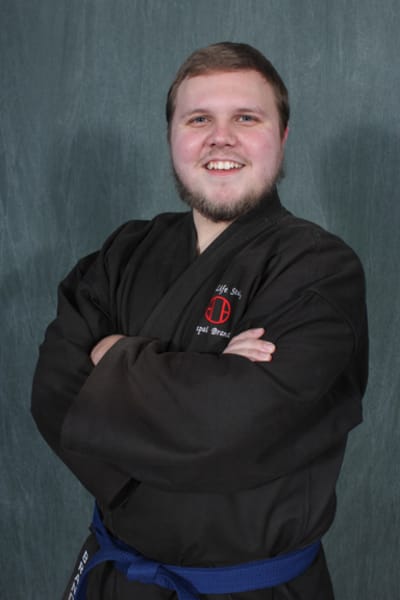 Senpai Brandon
Aside from Sensei Stein, Senpai Brandon Finn has been training with KLS longer than any other student. He started in 2002 at 4 years old as a Little Ninja and stayed with his Karate training through middle school, High School and College. He is currently 2 ranks under Black Belt and is very much looking forward to testing for his Black Belt in early 2021. His favorite part of Karate is Kata (Form) training, and feels Kata improves his form in everything he does!
Senpai Brandon began teaching classes in 2015. Like all of our student instructors, he started out teaching Little Ninjas and younger students, but has worked hard to extend his teaching capabilities to ALL of our classes, including Teen and Adult Elite 1's. Senpai Brandon earned a Karate Life Studios Level 2 teaching Certificate in 2019 and is now our highest ranking instructor. Most recently, he joined the KLS staff full-time as Lead Instructor. You can find him keeping track of students - in fact, if you have ever missed more than a week of class, you and he have probably talked! Other duties include keeping the school sparkling before classes every day and planning events.
Outside of class, Senpai Brandon has participated in tournaments in Chicago and smaller local tournaments, both as a competitor and a Referee. He uses his Referee experience to teach in our Black Belt Leadership classes. Current Black Belt Leadership class plans were developed by Senpai Brandon, and he leads and plans many of our awesome events at KLS. You will see him leading and assisting at Birthday Parties, Karate Camps, Parent Nights Out, and Coaching Classes for parents.
In 2020, he placed 1st in Kata (forms) at the Annual Karate Life Studios Tournament.