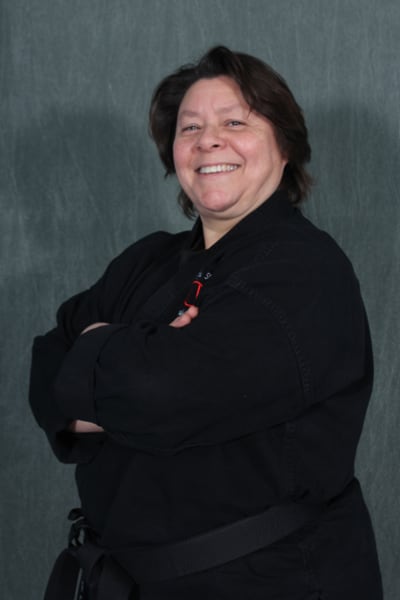 Senpai Virginia
Senpai Virginia is originally from San Francisco, CA. She began her martial arts training at the age of 9 at Cahill's Judo Academy under the supervision of Willy Cahill, an Olympic Judo coach. She found her love for karate while studying Bok Fu at East West Karate School. Under Sensei Robert Ito, she attained her Green Belt. Later during her teen years, Senpai Virginia was searching for more vigorous training. She immersed herself in studying Matsubayashi Ryu at Omine Karate Dojo where traditional Okinawan training methods were the norm. Senpai Virginia attained her Black Belt in June of 1985 under the supervision of Kyoshi Susan Budge. Senpai Virginia was the 1st female to be promoted to Black Belt by Kyoshi Budge at Omine Karate Dojo.
Lessons learned in physical fitness and discipline proved instrumental when Senpai Virginia enlisted in the Marine Corps. During this time, Senpai Virginia was welcomed to participate in the objective of creating a syllabus for the new Marine Corps Close Combat Training Program; known today as, Marine Corps Martial Arts Program. Senpai Virginia was also invited to train at the Matsubayshi Ryu Headquarters Dojo while stationed at Camp Kinser, Okinawa, Japan.
In 2013, Senpai Virginia came to Karate Life Studios. Her goal is to learn our style of Karate, Shito Ryu, and test for black belt in 2022. She has been part of our Black Belt Leadership program. Senpai Virginia is an avid runner, and she has volunteered as a running coach for many 5k race participants. Her love of coaching inspired her interest in teaching, and she has become one of our most sought after teachers in the dojo. Senpai Virginia is a Level 3 instructor. Her firm and motherly manner has won the hearts of many of our students. Her passion and energy seems endless, and she attributes that to the example her mother set. Senpai Virginia's mother attained her Brown Belt at the young age of 60. Senpai Virginia is also an integral part of Karate Life Studios.