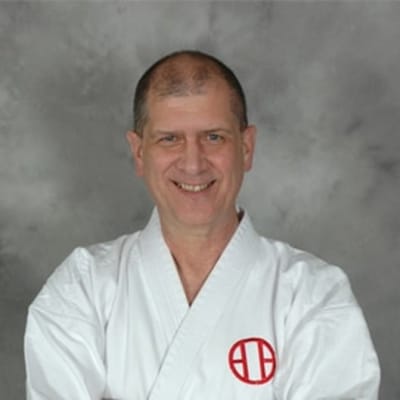 Sensei Charles Jarnagin
Charles Jarnagin is a Fifth Degree Black Belt, and the owner and Chief Instructor for Karate Life Studios.
Sensei Jarnagin started his Martial Arts training in Karate in 1971 with the National Karate Association. He was beginning his career as a Police Officer and wanted to be ready for the possible physical aspects of the job. In those days, Police officers worked mostly by themselves, and wrong doers had to be dealt with quickly. Karate became part of his life as his Police career spanned over 17 years and numerous physical encounters. Due to the low income of Police Officers in those days, Sensei Jarnagin was also employed part time by several businesses over the years for his physical ability to provide security. The combination of these factors, added to the over 60 tournaments he competed in honed Sensei Jarnagin's physical skills and led him to be a sought after instructor of Martial Arts in the Midwest.
Sensei Jarnagin and Sensei Sandy Angus started the St. Louis School of Okinawan Karate on Morganford in St. Louis in 1984, and then Sensei Roy Stout and Sensei Jarnagin started Karate Life Studios in 1995.
In April of 1996, Sensei Jarnagin started his studies in Child Management thru the American Council on Martial Arts and in personal study. In September of 1996 he moved to working with children and formed several children's only classes for ages 7 and up. Karate Life Studios children's classes expanded to cover 4-6 year olds in the next few years and the children's programs fast became an accepted part of our Karate School.
Sensei Jarnagin holds 4th Degree Black Belts in Kenshin Kan Karate, Shudo Kan Karate and his current style of Shito Ryu Karate where he was promoted thru the Ministry of Education in Japan in the World Shito Ryu Karate-do Federation. He also holds a 3rd degree Black Belt with the USA-NKF, where he was tested by a panel of 3 Masters in Shoto Kan, Shito Ryu and Wado Ryu.
Sensei Jarnagin does not compete any more, but continues to teach, test and study in Shito Ryu Karate, and lends his expertise at tournaments as one of the top referees in the United States and the Pan American Karate Federation.