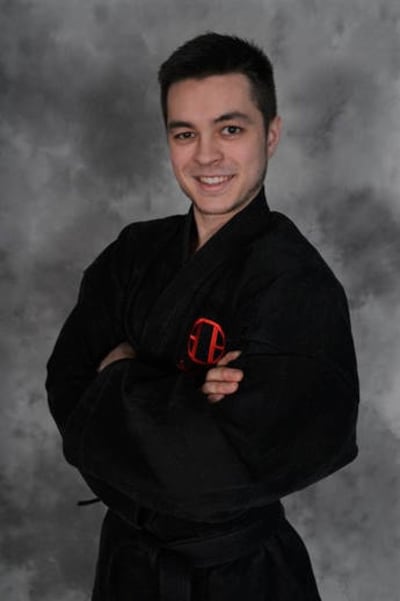 Sensei Eric Stein
Sensei Eric Stein is a 4th degree black belt in Shito Ryu Karate Do. He began his training at Karate Life Studios in 1996, at the age of four. In those days, there were no special classes for the very young, and Eric endured training along with all of the older students. Tests were considerably more severe in those days, but Eric's desire for learning Karate-do never wavered.
Eric was a graduate of the Karate Life Studios Black Belt Leadership program, and earned his black belt at fourteen. He then persevered and continued to climb the ranks of Shito Ryu Karate until he was promoted to 3rd degree Black Belt in October of 2014 by Sensei Jarnagin's teacher, Master Shoko Sato at a test for upper ranks in Miami, Florida. He then tested for 4th degree Black Belt through Sensei Jarnagin's current teacher Kunio Murayama in Phoenix, AZ on April 28, 2018 and passed. Eric was also awarded his Jyokyo level teaching license under Murayama Shihan at the same test. Eric is currently the highest ranking Black Belt that has been promoted by Sensei Jarnagin.
Though he had many teachers (Senpai's) in his early training, Eric's main teacher and mentor was Sensei Charles Jarnagin, and he has been a student of his ever since.
He also had a very successful competition career in those early years, competing all across the United States in tournaments sponsored by the USA-NKF. Eric was promoted to USA-NKF Referee D as he also assisted and refereed at some of the major tournaments where he competed.
As most of our students know, our Black Belt Leadership program excels at sponsoring junior students in advanced Karate techniques, judging and refereeing and teaching. After graduating Black Belt Leadership, he continued to assist in teaching in the Dojo. He began teaching classes as an employee at KLS in 2007 and has been steadily instructing classes since 2012. As he continued to instruct in the Dojo, he rose up from a Level 8 Junior Instructor to Level 3 as a full Instructor, then to a Level 1 instructor. Recently, Sensei Stein was promoted to Head Instructor of Karate Life Studios, and is in line to succeed Sensei Jarnagin as Chief Instructor!
In a personal note, Sensei Stein attended grade school at St. Joan of Arc. Then, the summer after making his First Degree Black belt started attending the prestigious St. Louis University High School. After graduating in 2011, he began college at Webster University, where he graduated from the Bachelor of Arts in Mathematics Program.